Welcome To Jay Markanich Real Estate Inspections, LLC - A Bristow, Virginia, Multi-Service Home Inspection Company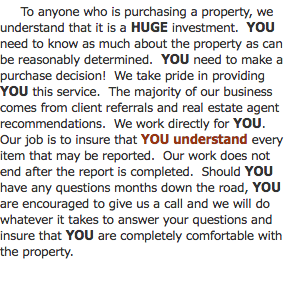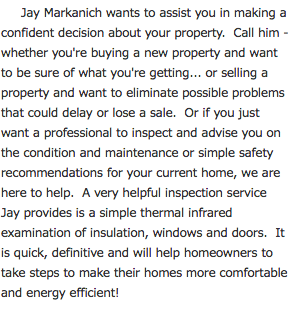 For confident and licensed home inspections, you should
INSIST on Jay Markanich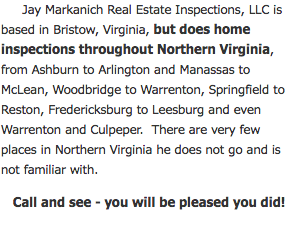 Jay is bilingual English/Spanish
To schedule a home inspection now, call Jay
Office (703) 330-6388 or
Cell (703) 585-7560

Email: jaymarkanich@gmail.com
We accept all forms of payment,
including Mastercard and Visa.


Search Engine Rankings - Instant, online reports of web site rankings in 8 top search engines and web directories, including Google, Yahoo! Search, MSN, AOL, AltaVista, AllTheWeb, Yahoo! Directory, and Open Directory (Dmoz).
Jay performs inspections Monday through Saturday, throughout Northern Virginia, from his office in Bristow to Leesburg and Centreville, to Great Falls and Vienna and everywhere in between!